So you've decided that you want a new Hyundai Tucson. It's a great choice – Tucson is a fantastic car. But now comes the hard part: figuring out how to finance it.
There are many different options, and it can be hard to know which is right. So we've put together this list of the seven best ways to finance your new Tucson. Read more about Tucson below to learn more. We have done a lot of research and provided several ways to finance your new Hyundai Tucson in this post.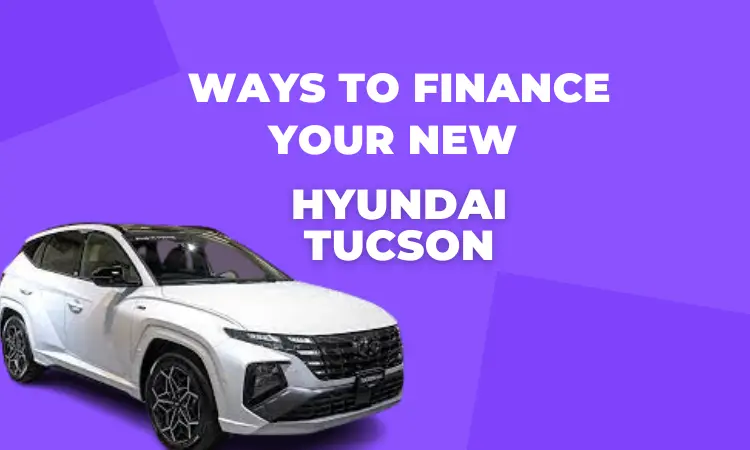 Ways to Finance Your New Hyundai Tucson
1. Car Loan From Your Local Bank
Before rushing to your nearest dealership, consider securing a loan from your local bank. You will often find lower interest rates and have the opportunity to build a positive relationship with your bank.
When applying for a loan, have all necessary documents and information, including proof of income and credit history.
Your bank may offer added benefits such as extended warranty coverage or gap insurance. And don't forget to shop for the best deal: compare loan terms and rates from multiple banks before making a decision.
2. Credit Card With Low-Interest Rates
If you're looking to finance a new Tucson, one option is to use a credit card with low-interest rates.
It can be a great way to spread out the cost of your purchase over time, and you may even be able to take advantage of rewards points or cash-back programs.
Just be sure to make your payments on time and in full to avoid costly late fees or damage to your credit score.
3. Trade-In Your Old Car
If you have an existing car that you're looking to trade in, now is a great time to do it. It can be a great way to reduce the overall cost of your Tucson.
First, however, get an estimate of your trade-in value before you head to the dealership so you know how much you can expect to get for your car.
4. Personal Loan
Of course, Tucson is a fantastic car, but it's not cheap. If you're looking to finance your purchase, one best options are to take out a personal loan.
Personal loans often have lower interest rates than credit cards, and you may be able to get a more extended repayment period.
In addition, it helps to make your monthly payments more manageable. Before you apply Just be sure to shop around for the best rates and terms.
5. Lease Your New Tucson
If you're not looking to purchase a car outright, another option is to lease the Tucson. It can be a great way to get into a new car without making a large down payment.
Monthly payments on leases are often lower than on traditional loans, and you may have the option to trade in your car after a few years for a newer model. Just read the fine print on your lease agreement before signing anything.
6. Apply For A 0% APR Financing Deal
Many dealerships are currently offering 0% APR financing deals on select models. It can be a great way to finance your Tucson and save money on interest.
Just be sure to check the terms of the deal before you sign anything, as there may be some restrictions or requirements that you need to meet.
7. Don't Believe the Gap Insurance Hype
Gap insurance is often touted as a must-have for anyone financing a new car. However, gap insurance is not always necessary.
If you have a high-interest-rate loan, gap insurance may make sense. But if you're getting a low-interest rate loan or leasing your car, gap insurance is probably not worth the cost. Know what you're buying before you sign anything.
What Makes the Hyundai Tucson a Great Car?
The Hyundai Tucson is an excellent car for several reasons. First, it's incredibly reasonable. With a starting price of just $34,900, the Tucson is one of the most affordable SUVs on the market.
It's also very well-equipped, with standard features like heated front seats and a touchscreen display.
The Tucson is also very fuel-efficient, getting up to 33 MPG on the highway. And with various engine and transmission options, you can choose the powertrain that best suits your needs.
So whether you're looking for a fuel-efficient daily driver or a powerful off-roader, Tucson should be at the top of your list.
Final Thoughts
Tucson is a great car, and various financing options are available to make it even more reasonable.
Be sure to consider all your options and choose the one that makes the most sense. With a bit of research, you can save time and money in the long run.