If you're a homeowner who wants to sell your house fast, consider working with a cash buyer.
Cash buyers are real estate investors with the funds to purchase properties outright without bank or mortgage lender financing.
This is a huge advantage because it eliminates the risk of a transaction falling through due to a denied mortgage loan and gets you a faster closing.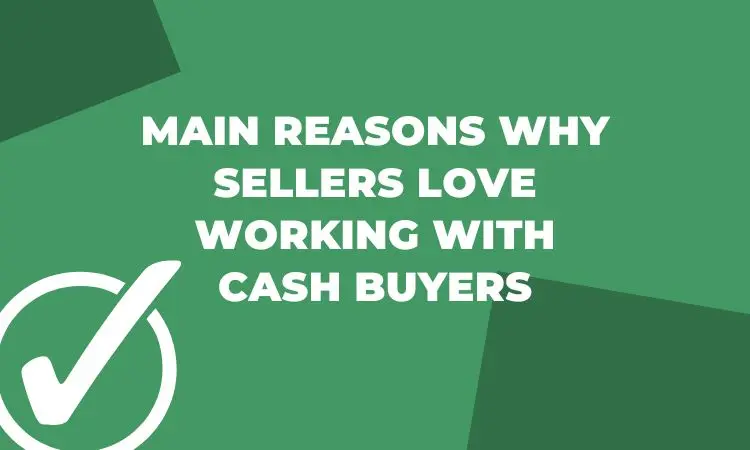 Here are 3 main reasons why sellers love working with cash buyers.
Quick and Easy Sale
Selling a house can be time-consuming and complicated, primarily if you sell the traditional way of listing your home on the open market via a real estate agent.
But utilizing a cash buyer will speed it up and simplify the process. Cash purchasers can acquire your house without bank financing, so that you don't have to worry about a buyer's financing fall through.
Cash buyers can frequently close on a deal in as little as 14 days, substantially speedier than the usual property selling time.
This speed can be especially advantageous if you're looking to "sell my house fast" due to a job relocation, financial issues, or other urgent matters.
No Need for Repairs
Ensuring your house is in excellent condition is one of the major obstacles to selling a home through conventional methods.
Making your property appealing to prospective buyers may require significant repairs or improvements. However, if you work with a cash buyer, you won't have to worry about doing any repairs or upgrades. 
Since cash buyers frequently acquire houses in as-is condition, you don't need to spend money or time doing repairs.
Doing this may save you a lot of money, time, and stress. Instead of stressing about repairs and renovations, you can focus on choosing your new house and starting the next stage of your life.
No Fees or Commissions
You are anticipated to pay a commission on the sale of your home when contracting with a real estate agent.
It can range from 5 to 6 percent of the selling price, which usually equates to thousands of dollars. Working with a cash buyer eliminates worrying about commissions or other costs.
Cash buyers purchase homes directly from the seller, meaning a real estate agent or broker is unnecessary. You can get your home's total value while making considerable financial savings.
Summary
Working with a cash buyer is a great alternative if you want to sell your house quickly.
Cash buyers can make the process quick and easy, and they typically purchase properties in as-is condition. 
Do your homework and deal with a trustworthy buyer when you're considering selling your house to a cash buyer.
Seek out cash buyers with a history of cash transactions and great testimonials from previous customers. Working with a trustworthy buyer guarantees a simple, stress-free, and easy sales process.
Working with a cash buyer is an excellent choice if you want to sell your house fast. Consider speaking with a nearby cash buyer if you want to learn more about this option and decide if it's ideal for you.