Learning new skills is hard, but it doesn't have to be. These days, you can take courses on anything from marketing to programming.
Udemy and Coursera are two of the most popular choices for online education. The question is how do you know which one will suit your needs best? We'll show the strengths of each platform to help you decide which one is right for you in this "Udemy Versus Coursera" review!
There are a lot of online learning platforms catering to different needs and interests. While they both have their pros and cons, Udemy and Coursera offer something different. Let get into business!
What Is Udemy?
Udemy is an online marketplace for learning with an extensive course selection that ranges from health and wellness to sales and Digital marketing. They offer more than 35 million courses in over 190 different subjects, making it easier to find the perfect class for you.
Udemy may be the better option for those who want to learn a new skill quickly and easily. With Udemy, there's no need to wait until an assigned time like traditional classroom-based instruction; you can start your online class whenever you're ready.
What is Coursera?
Coursera is a non-profit educational platform that offers MOOCs (Massive Open Online Course) courses from the world's top universities on topics such as coding, data science, machine learning, AI, finance, economics, mathematics, physics, humanities, and social sciences.
Coursera offers online classes to anyone, anywhere. Free courses are available for learners of all ages and backgrounds. Coursera also has certifications that can be obtained for free when you enroll in any of their paid certificate programs.
For example, if you want to learn about Marketing Analytics in the Digital Age, then you can take the course for free and then get your certification for $115.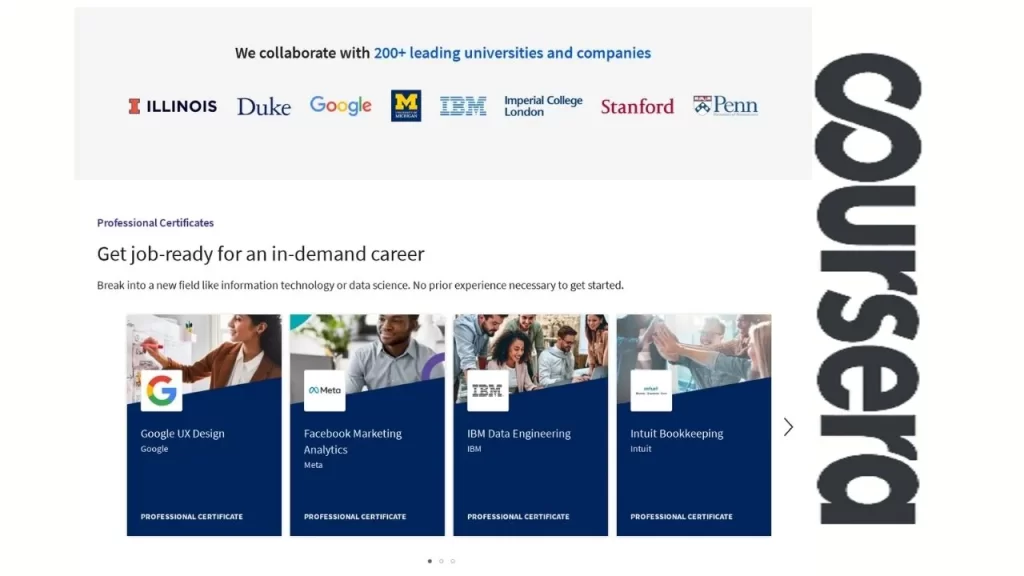 Udemy Pros and Cons
PROS:
All courses are available for purchase separately
Udemy gives you access to their courses for the rest of your life
Affordable course rates
You can simply track your progress on Udemy
Courses are available in a variety of languages
Every month, more than 100,000 new courses are added
It's simple to enroll in classes that can help you advance your profession
You will receive certificates once you have finished the course
Availability of many free courses
It provides transcriptions for its courses
Review and ratings from previous students are much available
To take any course, you do not need any prior qualifications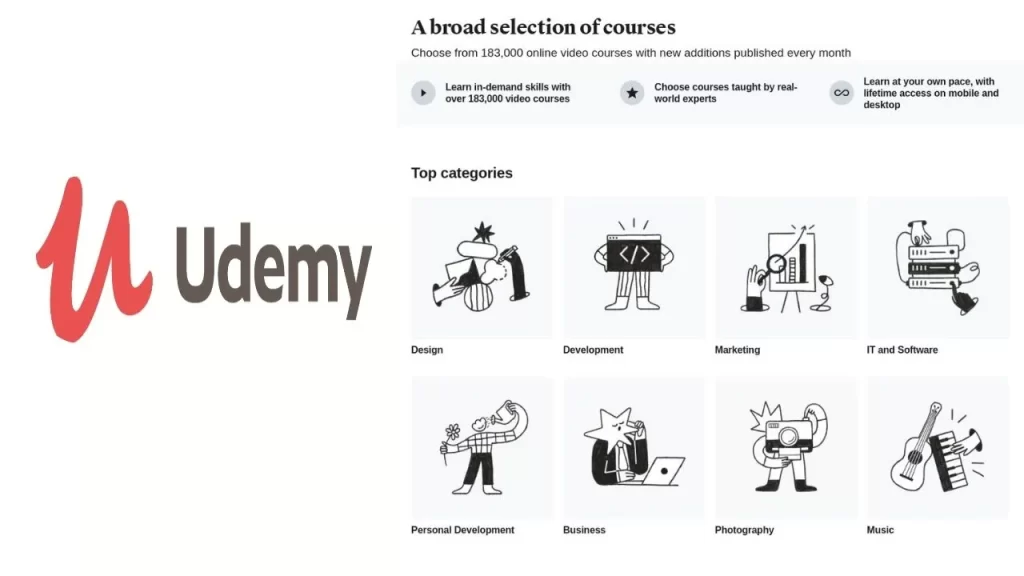 CONS:
There is no course quality control on Udemy
Udemy don't specialize in a certain field
Coursera Pros and Cons
PROS:
A more tailored experience
Coursera provides accredited courses from approved universities
Coursera offers more structured courses
The name of a professional institution is used to award Coursera certificates
Single courses, specializations, and degree programs are all available
Coursera has partnered with institutions to provide master's degree and specialty programs
It provides you with a worldwide experience as well as global exposure
Coursera primarily offers courses in more than nine different languages
CONS:
Coursera's courses are not flexible
High prices for premium courses
For free courses, you will not earn any certification
Some Coursera courses are only available for a limited period of time
Some courses cannot be enrolled in at any time. You'll have to wait until the class begins
You will not be able to find the data and assignment you submitted once you have completed the course
Difference Between Udemy and Coursera: A Review
It is no gainsaying in the fact that both platforms are the major game-changers in the online learning realm. They both offer a different set of features that make them unique. However, there are some differences between them that we need to explore before we can decide which one is right for your needs and goals.
| | | | |
| --- | --- | --- | --- |
| S/N | | UDEMY | COURSERA |
| 1. | Type of Courses | Udemy focuses on teaching skills in specific areas, including web development, marketing, video production, photography, and more | Coursera offers courses from some of the world's top universities on topics such as coding, data science, machine learning, AI, finance, economics, mathematics, information technology, humanities, and social sciences |
| 2. | Interactivity | When it comes to interactivity Udemy is better suited for those who are looking for hands-on experience. | Provides some level of interactive features |
| 3. | Pricing | starting at $10 per course | starting from $8.15 each month |
| 3. | Course Coverage | Udemy covers a lesser range of topics compared to Coursera | Coursera covers a wider range of topics compared to Udemy |
| 4. | Type of Instructors | The majority of the courses are anchored by individuals and professionals | Most courses are offered by Renowned institutions and well-known universities |
| 6. | Interface | Very easy to use dashboard and interface, | The interface and navigation are not as easy as Udemy |
| 7. | Course Accreditation | Non-accredited courses | accredited courses |
| 8. | Who is eligible to become an Instructor? | Almost anybody may become a teacher on Udemy | Only experts and professionals are allowed to be an instructor on Coursera. |
Difference between Udemy and Coursera
You might need to know about the 5 Best Sites to Get Udemy Paid Courses for Free
23 Sites like Udemy and Coursera (Udemy and Coursera Alternative)
Skillshare
MasterClass
FutureLearn
SoloLearn
Qvault
Udacity
Code School
Python Principles
Dataquest
Lynda
Codeasy
Skillsoft
Treehouse
Pluralsight Skills
CatEight
Workshop
Forage
Final Note on Udemy Versus Coursera
If you're looking for a more cost-effective way to acquire new skills on your own time, check out Udemy.
Udemy may be a better option for someone who prefers a more casual learning environment.
If you want to take some important courses from well-known academic institutions, Coursera is a good option. Better still, If your desire is to acquire a certificate from an approved university, Coursera is the place to go.
Which one would you choose? If you're looking for an easy way to learn new skills on your own time without even leaving home then Udemy will be best for you. If you want the best of the best with no option for failure then Coursera would be your better bet. Regardless of which one you pick, it's never too late to learn something new!